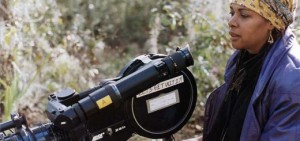 The first film directed by an African-American woman to be released theatrically didn't happen until 1991 with Daughters of the Dust directed by JULIE DASH.
Dash was first exposed to cinematography in an after-school program at the Studio Museum in Harlem where she and a friend believed they were enrolling in a class on still photography, not knowing what cinematography was. She went on to study at AFI with cinema legends such as Ingmar Bergman and UCLA at the tail end of the movement that became known as the LA Rebellion. Keep an eye out for Travel Notes of a Geechee Girl coming soon!
More to add to this "bite-sized blog" – please send us a comment!
---
Where to watch her films:
AMAZON (DVDs/BluRays for PURCHASE)
WOMEN MAKE MOVIES FILM CATALOG
Read more about her:
ONLINE
Find her on Twitter
Find her on Facebook
Watch her interview for the 2nd Sex
Flavorwire Interview
Julie Dash and the ongoing struggle of black women filmmakers 
UCLA – Julie Dash & the LA Rebellion
Wikipedia
FILMOGRAPHY (from imdb):