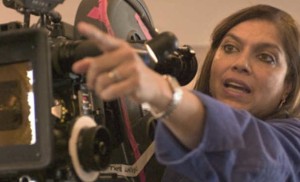 MIRA NAIR began her career as a documentarian and then went on to make fiction films including one of Denzel Washington's first features Mississippi Masala (1991).
Born and raised in India, Nair moved to the United States to study on a scholarship at Harvard before embarking on her film career.
 More to add to this "bite-sized blog" – please send us a comment!
---
Where to watch her films:
AMAZON (DVDs/BluRays for PURCHASE)
Read more about her:
ONLINE
Find her on Facebook
Find her on Twitter
Encyclopedia Britannica
Lupita Nyong'o Will Star in Mira Nair's 'Queen of Katwe' Film Adaptation (On Ugandan Chess Prodigy Phiona Mutesi)
MOVIE REVIEW: MIRA NAIR'S THE RELUCTANT FUNDAMENTALIST
Wikipedia
FILMOGRAPHY (from imdb):