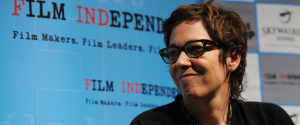 LISA CHOLODENKO began her work in film as an Assistant Editor (post-production assistant) on Boy'z in the Hood (1991) and then went on to get her MFA from Columbia.
Her first full-length film High Art (1998) featured Ally Sheedy who was part of a group of actors from the 1980s known as the "Brat Pack." Cholodenko's The Kids Are All Right (2010)  about a lesbian couple's relationship with their children's sperm donor was nominated for a Best Picture Oscar the year after Bigelow won for Hurt Locker (2009).
 More to add to this "bite-sized blog" – please send us a comment!
---
Where to watch her films:
AMAZON (DVDs/BluRays for PURCHASE)
Read more about her:
ONLINE
Lisa Cholodenko on Getting Under the Skin of Frances McDormand's 'Olive Kitteridge'
Focus Features – The Kids Are All Right
Lisa Cholodenko: 'I wanted to make a film that was not sanctimonious or sentimental'
Variety
Deadline
Wikipedia
FILMOGRAPHY (from imdb):