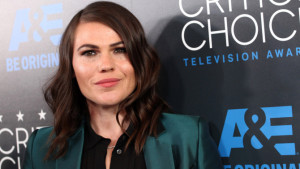 CLEA DUVALL began her career as an actress and has appeared in numerous movies and television shows.
Her success as an actress has given her the opportunity to transition into directing and her first feature film The Intervention premieres at Sundance.
More to add to this "bite-sized blog" – please send us a comment!
---
Where to watch her films:
VIDEO INTERVIEW ON HER SUNDANCE PREMIERE
Stay Tuned for distribution of her THE INTERVENTION after its Sundance premiere.
Read more about her:
ONLINE
Find her on Facebook
Find her on Twitter
Clea DuVall's directorial debut will be a partial But I'm A Cheerleader reunion
Clea DuVall Making Directorial Debut With Film Starring Cobie Smulders, Melanie Lynskey
Wikipedia
FILMOGRAPHY (from imdb):