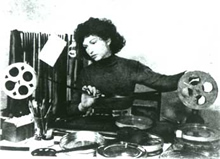 MAYA DEREN began her career studying literature and as a photographer and then went on to make her mark as an experimental filmmaker with films such as Meshes of the Afternoon (1943).
Deren was the first filmmaker to receive a Guggenheim grant in 1947. She died in 1961 at the age of 44 of a brain hemhorrage.
 More to add to this "bite-sized blog" – please send us a comment!
---
Where to watch her films:
AMAZON (DVDs/BluRays for PURCHASE)
Read more about her:
BOOKS
Essential Deren Collected Writings

ONLINE
Senses of Cinema
MoMA
The Principle of Infinite Pains: Legendary Filmmaker Maya Deren on Cinema, Life, and Her Advice to Aspiring Filmmakers
In the Mirror of Maya Deren documentary presskit
A LIFE CHOREOGRAPHED FOR CAMERA
Wikipedia
FILMOGRAPHY (from imdb):