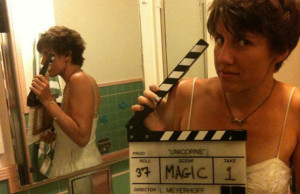 When in pre-production for her first feature film I Believe in Unicorns (2014) LEAH MEYERHOFF gathered a group of female filmmakers for a dinner party to talk about their experiences. That one night snowballed into an organization known as Film Fatales with chapters all over the country and expanding internationally.
Meyerhoff went to Berkeley High School in Northern California and got her MFA at NYU.
 More to add to this "bite-sized blog" – please send us a comment!
---
Where to watch her films:
AMAZON (DVDs/BluRays for PURCHASE)
Read more about her:
ONLINE
Find her on Facebook
Find her on Twitter
Leah Meyerhoff's Website
I Believe in Unicorns Website
Attention, Female Filmmakers: The Film Fatales Are Here to Help You
Film Fatales Website
Wikipedia
FILMOGRAPHY (from imdb):