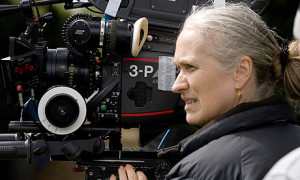 The first woman to win the Palme d'Or was JANE CAMPION for her film The Piano (1993) which also made her the second woman nominated for an Oscar for Best Director (Lina Wertmüller was nominated before Campion in 1976 for her film Seven Beauties).
In 2013 Campion took over as Cannes Jury President, the year after a petition was circulated when no women directors were represented at the festival. As Campion said about the sexism in the industry, "Excuse me gentlemen, but the guys seem to eat all the cake. It's not that I resent the male filmmakers. I love all of them. But there is something that women are thinking of doing that we don't get to know enough about. It's always a surprise when a woman filmmaker does come about."
 More to add to this "bite-sized blog" – please send us a comment!
---
Where to watch her films:
AMAZON (DVDs/BluRays for PURCHASE)
Read more about her:
ONLINE
Find her on Facebook
Nicole Kidman Says She's Making A New Movie With Jane Campion, Talks Lack Of Movie Roles For Older Women
Cannes Jury President Jane Campion Calls Out the 'Inherent Sexism' in the Film Industry
New York Times
Cinema Axis
Wikipedia
FILMOGRAPHY (from imdb):