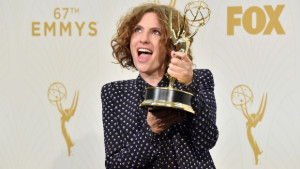 Emmy Award winning director of the Amazon show Transparent JILL SOLOWAY began her career as a writer and only recently took on the role of director when she told her husband she wanted to invest in a feature film and take it to Sundance.
In 2013 her feature directorial debut Afternoon Delight debuted at Sundance.
 More to add to this "bite-sized blog" – please send us a comment!
---
Where to watch her films:
Read more about her:
ONLINE
Find her on Facebook
Find her on Twitter
Jill Soloway of 'Transparent': A Daughter's Story
A Female Gaze on Ladies Who Lust – 'Afternoon Delight' Is Jill Soloway's Sexually Frank Debut
Dolls and Feelings – Jill Soloway's post-patriarchal television.
Wikipedia
FILMOGRAPHY (from imdb):