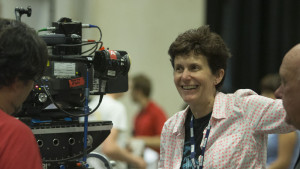 RACHEL TALALAY studied mathematics at Yale while running the Yale film society. Her directorial debut was doe one of the famous Nightmare on Elm Street franchise in 1991 before directing the cult classic Tank Girl (1995).
She has directed numerous television shows including the resurgence of the classic Dr. Who series and is the first woman to direct for the BBC Sherlock series.
 More to add to this "bite-sized blog" – please send us a comment!
---
Where to watch her films:
AMAZON (DVDs/BluRays for PURCHASE)
Read more about her:
ONLINE

Find her on Twitter
Find her on Facebook
Her blog
Den of Geek
THE DIRECTOR OF "TANK GIRL" IS NOW BEHIND-THE-SCENES ON THE NEW "DOCTOR WHO"
Wikipedia
FILMOGRAPHY (from imdb):