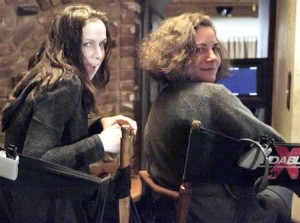 MARCY BOYLE and RACHEL HOLZMAN met while students at Barnard College in New York. They collaborated on scripts and both had written bigger budget fair that wasn't getting produced so they decided to collaborate on a project they could do themselves. Nobody Can Cool (2015), a neo-noir-horror thriller was born!
They are now collaborating on a documentary about Hollywood producer Debra Hill who after successfully producing the Halloween movies as well as critically acclaimed movies such as The Fisher King (1991) and many others died at age 55 of cancer.
 More to add to this "bite-sized blog" – please send us a comment!
---
Where to watch her films:
Read more about her:
ONLINE

Find them on Twitter
Find them on Facebook
Interview
Starburst Magazine Interview
Filmmaking Team DPYX Creating The Debra Hill Documentary
Ms. in the Biz
FILMOGRAPHY (from imdb):