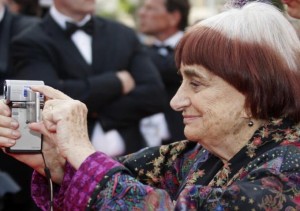 Despite being only a few years older than Truffaut and Godard AGNÉS VARDA is known as the Grandmother of the French New Wave. With a background in art not cinema, her first film La Pointe Courte (1955) was made in her hometown without film training but by her simply picking up a camera and making it happen which has proven the inspiration for many of her subsequent films.
Varda did a brief stint in Hollywood where she directed Lions Love a film about New York transplants (including some of the famous Warhol crowd) in Los Angeles and a short documentary about the Black Panthers. Her time in Los Angeles was short lived but she returned to France to continue making movies and just last year at the age of 87 premiered her short Les 3 boutons at the Venice Film Festival.
More to add to this "bite-sized blog" – please send us a comment!
---
Where to watch her films:
Read more about her:
ONLINE
Meet The Grandmother Of The French New Wave (NSFW)
La Pointe Courte: How Agnès Varda "Invented" the New Wave
Seeing California Through Agnès Varda's Lens, in a Criterion Set – New York Times
Interview
Criterion
Wikipedia
FILMOGRAPHY (from imdb):