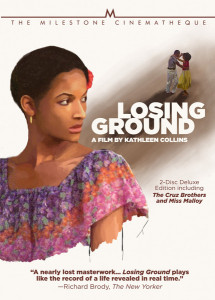 KATHLEEN COLLINS has been recognized as the first African American woman to write and direct a feature length film.
 Losing Ground (1982) was Collins' second film and first feature (The Cruz Brothers and Miss Malloy was less than an hour so not quite a feature). Unfortunately, it was also her last. She died of cancer at 46.
 More to add to this "bite-sized blog" – please send us a comment!
---
Where to watch her films:
AMAZON (DVDs/BluRays for PURCHASE)
Read more about her:
ONLINE
Find Losing Ground on Facebook
New York Times Obituary
Release of Newly-Restored "Lost" Kathleen Collins 1982 Classic, 'Losing Ground,' Starting in February
NPR
The New Yorker
Wikipedia
FILMOGRAPHY (from imdb):