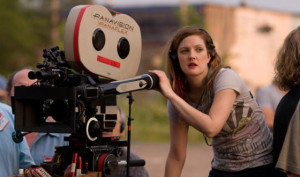 DREW BARRYMORE is an actress who jump started her career as a child with Steven Spielberg's E.T. (1982) and comes from the iconic Barrymore family in Hollywood.
She has tried her hand at directing first with a television documetnary Choose or Lose Presents: The Best Place to Start (2004) and then went on to direct the narrative feature film Whip It (2009), a Fox Searchlight film.
 More to add to this "bite-sized blog" – please send us a comment!
---
Where to watch her films: