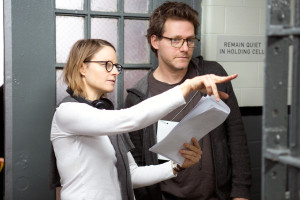 JODIE FOSTER grew up in Hollywood and in 2013 she won the Golden Globe Cecil B. DeMille Award for "outstanding contributions to the world of entertainment." She went after directing with as much force and insight as she did in pursuit of acting roles. At one point she reached out to French director Jean-Pierre Jeunet and expressed interesting in appearing in a film of his convincing him her French was up to par and she would play any size role despite her Hollywood status because she so admired his filmmaking.
In 1993 Jodie Foster started her own production company Egg Pictures after directing her first feature Little Man Tate (1993). She found out about the Netflix series Orange is the New Black and intrigued by the book it was based on and the show itself she reached out to get a directing gig on the show for which she was nominated for an Emmy.
 More to add to this "bite-sized blog" – please send us a comment!
---
Where to watch her films:
AMAZON (DVDs/BluRays for PURCHASE)
Read more about her:
ONLINE

Director Jodie Foster Breaks Down Exclusive Trailer for George Clooney-Julia Roberts Thriller 'Money Monster'
Jodie Foster Earns First DGA Noms For 'Orange' & 'House Of Cards': Inside Her Process
Emmys: Jodie Foster on Why She Wanted to Direct 'Orange Is the New Black' (Q&A)
The evolution of Jodie Foster: from precocious kid to Hollywood lifer
Jodie Foster on How She Wound Up Directing Two of TV's Best Shows
Wikipedia
FILMOGRAPHY (from imdb):