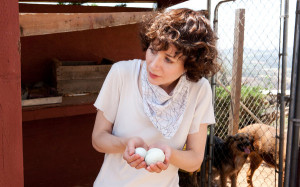 MIRANDA JULY was raised in Berkeley, CA and made her feature film debut with Me and You and Everyone  (2005) which was shot digitally before ti was ubiquitous and won the Camera d'Or at Cannes.
She went on to make the feature film The Future (2011) and has recently written a novel.
 More to add to this "bite-sized blog" – please send us a comment!
---
Where to watch her films:
AMAZON (DVDs/BluRays for PURCHASE)
Read more about her:
ONLINE

Find her on Twitter
Find her on Facebook
Her Website
Miranda July: 'I had some rough episodes when I was younger'
Makers
Wikipedia
FILMOGRAPHY (from imdb):