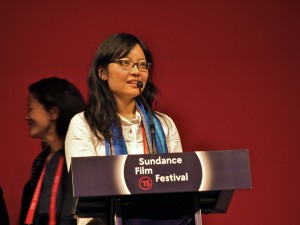 San Francisco-based filmmaker born in Berkeley JENNIFER PHANG attended AFI for an MFA and went on to make sci-fi films Half-Life and Advantageous.
Phang is one of six women chosen for the 2015-2016 Women of Sundance Fellowship.
 More to add to this "bite-sized blog" – please send us a comment!
---
Where to watch her films:
AMAZON (DVDs/BluRays for PURCHASE)
Read more about her:
ONLINE
Find her on Facebook
Find her on Twitter
ADVANTAGEOUS: A DYSTOPIAN FILM THAT'S PACKED WITH HOPE
Sundance Women Directors: Meet Jennifer Phang – 'Advantageous'
The Mary Sue Interview
SF Society Film Society Blog
Wikipedia
FILMOGRAPHY (from imdb):