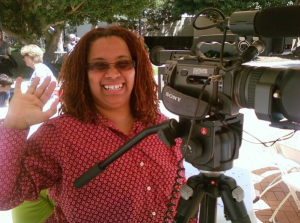 ZEINABU IRENE DAVIS teaches film at UC San Diego and can boast an eclectic range of films, having made narrative, experimental and documentary.
Her most recent feature is a documentary about the UCLA film movement now known as the LA Rebellion (the group included filmmaker Julie Dash) – Spirits of Rebellion: Black Film at UCLA (2011).
 More to add to this "bite-sized blog" – please send us a comment!
---
Where to watch her films:
Read more about her:
ONLINE

Find her on Twitter
Find her on Facebook
Spirits of Rebellion website
Black Silence: Films By Zeinabu irene Davis and Charles Lane
Indiana University
UC San Diego
UCLA
Wikipedia
FILMOGRAPHY (from imdb):