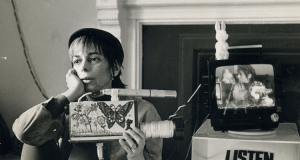 SHIRLEY CLARKE began her career as a dancer and choreographer and used those skills as a filmmaker.
Her first feature The Connection (1962) was based on the play by Jack Gelber about heroine addicted jazz musicians, shot in the cinematic realism style of the 1960s Clarke was one of the directors breaking ground in a new style of cinema.
 More to add to this "bite-sized blog" – please send us a comment!
---
Where to watch her films:
AMAZON (DVDs/BluRays for PURCHASE)
Read more about her:
ONLINE
Senses of Cinema
Shirley Clarke's 'Connection': Will It Click At Last?
Shirley Clarke website
To the Beat of Shirley Clarke
New York Times Obituary
Wikipedia
FILMOGRAPHY (from imdb):