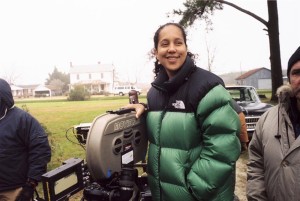 After attending UCLA film school GINA PRINCE-BYTHEWOOD began working in the industry as a writer on A Different World. She used her free time and experiences as a basketball player to write her first feature Love & Basketball (2000) where she worked with actress Sanaa Lathan to turn her into a realistic basketball player (her first instinct was to hire a player not an actor).
Bythewood is in talks with Fox for a new television series, Shots Fired, about the aftermath of police shootings in a small town in Tennessee, where she would reunite with Lathan
 More to add to this "bite-sized blog" – please send us a comment!
---
Where to watch her films:
AMAZON (DVDs/BluRays for PURCHASE)
Read more about her:
ONLINE
Find her on Facebook
Find her on Twitter
Director Gina Prince-Bythewood: It's Time To 'Obliterate The Term Black Film'
'Beyond the Lights' Director Gina Prince-Bythewood on How to Change Hollywood for Black Filmmakers
Sanaa Lathan and Gina Prince-Bythewood Are Reuniting For a TV Series About Police Shootings
Interview
Wikipedia
FILMOGRAPHY (from imdb):