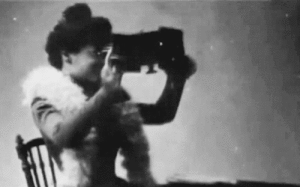 One of the first narrative films, La Fée aux Choux, was shot by a secretary for Léon Gaumont, ALICE GUY-BLACHÉ (1873-1968), who asked to use the company camera (a device considered used for observational purposes or as Gaumont referred to it, "simply a toy") on weekends to do some shooting.
Guy-Blaché became a fixture of what would become the Gaumont Film Company and moved with her husband to head up their division in America. Later they would form their own studio in New Jersey Solax Studios which she would helm.
More to add to this "bite-sized blog" – please send us a comment!
---
Where to watch her films:
Read more about her:
BOOKS
Alice Guy Blaché: Lost Visionary of the Cinema by Alison McMahan
The Memoirs of Alice Guy Blaché by Roberta and Simone Blaché
ONLINE
Alice Guy cinema pioneer
Be Natural – a movie being made about Alice
Biography
Blog
National Women's History Museum
Women's Film Pioneer Project
Wikipedia
FILMOGRAPHY (from imdb):