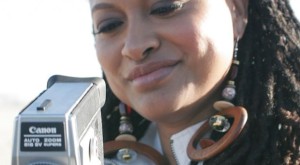 After being told, "African Americans don't go to indie films so we can't fund your indie film with an African American cast," AVA DUVERNAY made Middle of Nowhere (2012) without industry support and it screened at Sundance where she became the first African American woman to win Best Director at the festival. Using her experience as a publicist she formed a distribution company AFFRM to distribute her own films and those of other African American filmmakers.
Her next feature  film Selma (2013) was nominated for an Academy Award and she re-branded her distribution company AFFRM to ARRAY to encompass female filmmakers as well as people of color.
 More to add to this "bite-sized blog" – please send us a comment!
---
Where to watch her films:
AMAZON (DVDs/BluRays for PURCHASE)
Read more about her:
ONLINE
Find her on Facebook
Find her on Twitter
Ava DuVernay's Website
ARRAY Website
Ava DuVernay's AFFRM Rebrands as ARRAY, Acquires 2 Films
Barbie Made An Ava DuVernay Doll
Selma Director Ava DuVernay Says the Oscars Are "Just a Room in L.A."
Wikipedia
FILMOGRAPHY (from imdb):