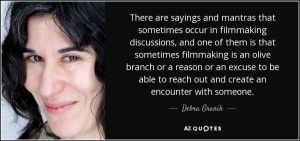 Before attending New York University's MFA program in Film DEBRA GRANIK worked as a videographer for trade unions where she first became interested in characters and sharing their stories.
In 2011 her film Winter's Bone was nominated for an Academy Award and catapulted Jennifer Lawrence into the category of A-list actor.
More to add to this "bite-sized blog" – please send us a comment!
---
Where to watch her films:
Read more about her:
ONLINE

"We'd Revert Back to the Idea of a Cauliflower": Debra Granik on Stray Dog
Life After 'Winter's Bone': Debra Granik on Finding J. Law and the Plight of the Female Director
INTERVIEW: DEBRA GRANIK, WRITER/DIRECTOR OF WINTER'S BONE
Debra Granik: How we made 'Winter's Bone'
Film School Rejects
Filmmaker Magazine
Wikipedia
FILMOGRAPHY (from imdb):