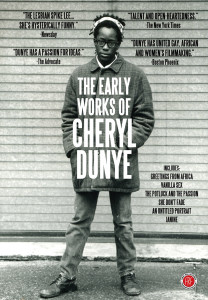 After directing and producing several shorts CHERYL DUNYE made her first feature film The Watermelon Woman (1996) exploring sexuality and race and film, funded in part by a grant from the National Endowment of the Arts.
After the success of The Watermelon Woman and the HBO movie Stranger Inside (2001) Dunye directed the Hollywood vehicle My Baby's Daddy (2004) written by Eddie Griffin. She continues to write and direct as well as teaching at various Universities in California.
 More to add to this "bite-sized blog" – please send us a comment!
---
Where to watch her films:
AMAZON (DVDs/BluRays for PURCHASE)
Read more about her:
ONLINE
Find her on Facebook
Find her on Twitter
Cheryl Dunye's Website
Filmmaker Magazine: Kickstarter: Cheryl Dunye Takes Off Her Cool withBlack is Blue
Interview
Wikipedia
FILMOGRAPHY (from imdb):