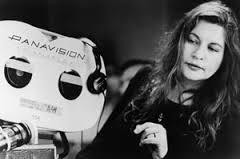 ALLISON ANDERS made her first feature film Border Radio (1987) while still a student at UCLA, shooting with classmates Kurt Voss and Dean Lent and reaching out to punk music icons to act in the film which is now a Criterion classic. She has gone on to direct features as well as for television.
For The Miramar Summit in the spring of 2000, well before the issue of the lack of women directors became mainstream news, Anders gathered women in the film industry to discuss the challenges facing female filmmakers in Hollywood.
 More to add to this "bite-sized blog" – please send us a comment!
---
Where to watch her films:
AMAZON (DVDs/BluRays for PURCHASE)
Read more about her:
ONLINE
Find her on Facebook
Find her on Twitter
Allison Anders with Bette Gordon 
Frontline Interview
"Women Stars Need to Put Their Money Where Their Mouth Is": Allison Anders on Female Directors and the Indie Film Movement
Wikipedia
FILMOGRAPHY (from imdb):