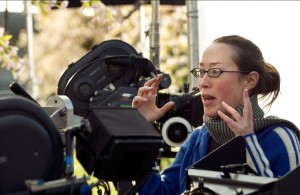 KARYN KUSAMA'S first film Girlfight (2000) premiered at Sundance and after its success she went on to direct the studio feature Aeon Flux (2005).
Her most recent feature The Invitation (2015) was part of the new narrative fiction funding offspring of Chicken & Egg – Gamechanger films.
 More to add to this "bite-sized blog" – please send us a comment!
---
Where to watch her films:
AMAZON (DVDs/BluRays for PURCHASE)
Read more about her:
ONLINE

Interview
10 Things We Learned About Karyn Kusama's Tumultuous Career from Her BuzzFeed Profile
How director Karyn Kusama got her indie groove back with 'The Invitation'
Gamechanger films bio
How Karyn Kusama Broke Out of Movie Jail
Wikipedia
FILMOGRAPHY (from imdb):
 2016Casual (TV Series) (2 episodes)