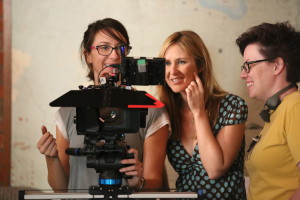 RAINY KERWIN's directorial debut premiered recently at the Palm Beach International Film Festival and is making its way to NYC April 23rd at the Manhattan Film Festival.
Kerwin is an actress who wrote and produced shorts getting her feet wet and inspiring her to direct The Wedding Invitation (2016) with an all female crew.
 More to add to this "bite-sized blog" – please send us a comment!
---
Where to watch her films:
Follow the screening opportunities for THE WEDDING INVITATION on
THE WEBSITE
Twitter
Read more about her:
ONLINE

Find her on Twitter
Find her on Facebook
The Wedding Invitation on Facebook
The Wedding Invitation website
Interview
Wikipedia
FILMOGRAPHY (from imdb):