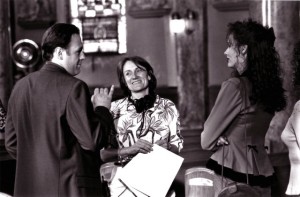 MARTHA COOLIDGE was the first female president of the Directors Guild of America from 2002-2003. She got her MFA at NYU before moving to Los Angeles to begin her career as a director.
Her first feature film Not a Pretty Picture (1976) is a hybrid documentary fiction film exploring a date rape Coolidge suffered as a young woman. She went on to direct commercial fiction feature films  starting with Valley Girl (1983) which launched Nicholas Cage's career as well as her own.
 More to add to this "bite-sized blog" – please send us a comment!
---
Where to watch her films:
AMAZON (DVDs/BluRays for PURCHASE)
Read more about her:
ONLINE
Find her on Facebook
Find her on Twitter
Martha Coolidge's Website
Our Entire Belief System Must Change
Martha Coolidge: Blaming DGA For Lack Of Female Directors Is "Dangerous Side-Path"
Wikipedia
FILMOGRAPHY (from imdb):