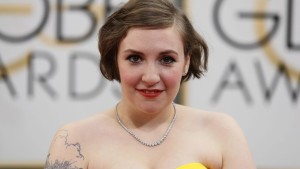 LENA DUNHAM began her career making short films that got tons of hits on Youtube.
Her parents told her that they would pay for her to go to graduate school or fund a feature film. Dunham chose to make her first feature Tiny Furniture (2010).
She went on to utilize social media to gain notoriety and create the hit series Girls for HBO.
 More to add to this "bite-sized blog" – please send us a comment!
---
Where to watch her films:
Read more about her:
ONLINE
Find her on Facebook
Find her on Twitter
It's Different for 'Girls' – Lena Dunham's new show is like nothing else on TV.
Find her on Instagram
Lena Dunham Website
Wikipedia
FILMOGRAPHY (from imdb):
Girls (TV Series) (7 episodes, 2013 – 2014) (written by – 29 episodes, 2012 – 2015) (created by – 20 episodes, 2015 – 2016)