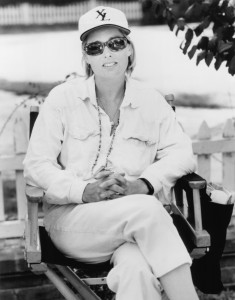 TAMRA DAVIS began her career directing music videos for popular bands in the eighties and nineties including the Bangles, Depeche Mode and NWA.
She has gone on to direct feature films including Chris Rock's "rockumentary" spoof CB4 (1993) and Billy Madison (1995) starring Adam Sandler, direct for television and direct and produce a documentary about her friend, the renowned artist Jean-Michel Basquiat.
 More to add to this "bite-sized blog" – please send us a comment!
---
Where to watch her films:
AMAZON (DVDs/BluRays for PURCHASE)
Read more about her:
ONLINE
The Radiant Child Website
Interview
Women Plus Film Meet the Filmmaker
PBS Interview
Karen McCullah and Tamra Davis Team Up for R-Rated, 'Bachelorette'-Style Comedy
Wikipedia
FILMOGRAPHY (from imdb):