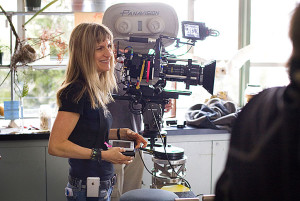 CATHERINE HARDWICKE was the first woman to launch a billion dollar movie franchise when she directed Twilight, the first in the series of mega-successful films based on the book series about teenage vampires and werewolves. All sequels of the series have been directed by men.
Hardwicke began her career as a production designer where no doubt skills gained from her degree in architecture gave her insight that she was able to utilize when attending film school at UCLA and entering the professional arena. She continues to direct films and television.
 More to add to this "bite-sized blog" – please send us a comment!
---
Where to watch her films:
AMAZON (DVDs/BluRays for PURCHASE)
Read more about her:
ONLINE
Find her on Facebook
Find her on Twitter
Catherine Hardwicke's Website
Catherine Hardwicke: Despite 'Twilight' Success, It Hasn't Been an Easy Road
The Hard Lessons Catherine Hardwicke Learned From "Twilight"
Wikipedia
FILMOGRAPHY (from imdb):