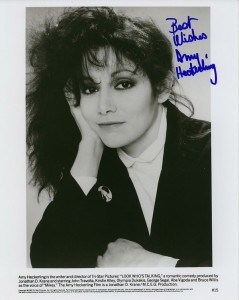 AMY HECKERLING studied at NYU and then went on to get her MFA at AFI. Shedirected the now classic film Fast Times at Ridgemont High (1982) and went on to direct the cult classic Clueless (1995).
She most recently directed for the Amazon series Red Oaks.
More to add to this "bite-sized blog" – please send us a comment!
---
Where to watch her films:
AMAZON (DVDs/BluRays for PURCHASE)
Read more about her:
ONLINE

Find her on Facebook
Clueless Director on the Film at 20, Jane Austen and a Musical Adaptation
'Clueless' Director Reveals 10 Secrets You Didn't Know
Women in Hollywood Interview
Interview
New York Times
Wikipedia
FILMOGRAPHY (from imdb):