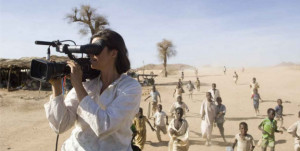 KIRSTEN JOHNSON is a renowned cinematographer who has won numerous awards for shooting documentaries including for The Oath (2010), Pray the Devil Back to Hell (2008) and CitizenFour (2014).
She has also directed documentaries including the recent Sundance premiere Cameraperson (2016) which delves into her experiences shooting documentaries.
 More to add to this "bite-sized blog" – please send us a comment!
---
Where to watch her films:
Read more about her:
ONLINE
Find her Film on Twitter
Cameraperson Website
Interview on Still in Motion
Janus Films Picks Up Kirsten Johnson's Award-Winning Documentary 'Cameraperson' – Exclusive
Interview
Why Oscar-Winning DP Kirsten Johnson's Sundance Opus is Required Viewing for Aspiring Filmmakers
SVA
FILMOGRAPHY (from imdb):