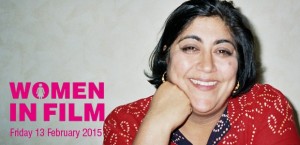 GURINDER CHADA was a BBC news reporter who made award winning documentaries in England before her fiction feature film Bend It Like Beckham (2002) became a US (and international) success.
She continues to direct for the screen and has recently turned Bend It Like Beckham into a stage musical.
 More to add to this "bite-sized blog" – please send us a comment!
---
Where to watch her films:
AMAZON (DVDs/BluRays for PURCHASE)
Read more about her:
ONLINE
Find her on Facebook
Find her Twitter
The Guardian Articles
British-Indian director Gurinder Chadha to make film on events leading to Partition
Telegraph interview
Wikipedia
FILMOGRAPHY (from imdb):