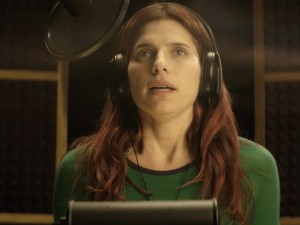 LAKE BELL studied drama in England at Rose Bruford College of Theatre and Performance and came back to the United States to start a successful career as an actress. She directed her first short film Worst Enemy (2010) shown at Sundance. Her feature In a World... (2013) also premiered at Sundance.
In an interview she said about her directing experience: "The first day I thought, 'My god, I feel so at home. What a great comradery This quenches my thirst for something creative in a way I never knew was possible.' I sort of loved the bustle of a thousand questions. Women are inherently kind of multitaskers."
 More to add to this "bite-sized blog" – please send us a comment!
---
Where to watch her films:
Read more about her:
ONLINE
Find her on Facebook
Find her on Twitter
Lake Bell on chicken parm, Sundance, and her crush on Axl Rose
Lake Bell interview: The Man Up actress explains how she juggles acting, writing, directing, producing and directing
Lake Bell enjoys juggling titles of actress and director
Wikipedia
FILMOGRAPHY (from imdb):