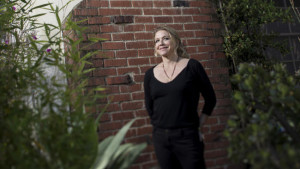 NINA MENKES studied film at UCLA where she first began collaborating with her sister Tinka Menkes who served as her actress and muse on several projects. As a director she has worked in all areas of production, writing, editing, working camera and sound on her projects.
Menkes' films have been known to challenge the viewer (especially the male viewer) nonetheless films including Phantom Love (2007), The Bloody Child (1996) and Queen of Diamonds (1991)  have found a home at mainstream festivals such as Sundance because of their boldness and craft. Sundance also embraced her New Media project The Crazy Female Bloody Center (2000).
 More to add to this "bite-sized blog" – please send us a comment!
---
Where to watch her films:
AMAZON (DVDs/BluRays for PURCHASE)
Read more about her:
ONLINE
Find her on Twitter
Nina Menkes Website
A Cinematic Sorceress of the Self
Fandor's Fix gives female directors a vital platform
Director Nina Menkes on Knowledge, Film and Faith
Wikipedia
FILMOGRAPHY (from imdb):
 2005
Massacre
(Documentary) (co-director)