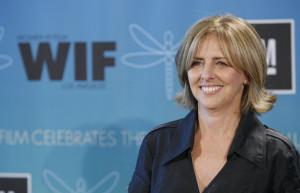 NANCY MEYERS' first job in Hollywood was as a production assistant on The Price is Right. She then started working as a story editor and wrote her first screenplay Private Benjamin (1980), starring Goldie Hawn.
The first film she wrote and directed was The Parent Trap (1998) – a remake of the 1961 film and she has gone on to make several Hollywood box office hits.
 More to add to this "bite-sized blog" – please send us a comment!
---
Where to watch her films:
AMAZON (DVDs/BluRays for PURCHASE)
Read more about her:
ONLINE
Find her on Facebook
New York Magazine
'The Intern's Nancy Meyers On The State Of Screenwriting And "Telling Stories About Human Beings"
Nancy Meyers: 'I don't see a lot of movies about complicated women … I think it's gotten worse'
Nancy Meyers on the Importance of Confidence and Why She's a Writer At Heart
'Intern' director Nancy Meyers reflects on changes for working women and in Hollywood
NPR
Wikipedia
FILMOGRAPHY (from imdb):