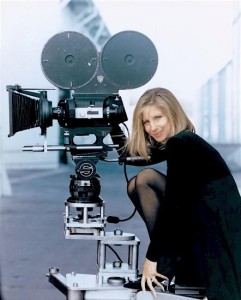 BARBRA STREISAND is a musical theater and actress powerhouse who made her directorial debut with Yentl (1983) which she fought to get made and opened the door for future directing and producing opportunities.
Much like Mary Pickford in the early days of the industry Streisand insists on shaping her own career. She was the Oscar presenter for the monumental moment when Kathryn Bigelow became the first woman to win an Academy Award for Best Director.
 More to add to this "bite-sized blog" – please send us a comment!
---
Where to watch her films:
AMAZON (DVDs/BluRays for PURCHASE)
Read more about her:
ONLINE

Barbra Streisand To Direct 'Catherine The Great' Movie
Barbra Streisand returns to the director's chair with Bourke-White/Caldwell love story
New York Times
Fan website
Keira Knightley to Play 'Catherine the Great' for Director Barbra Streisand
Wikipedia
FILMOGRAPHY (from imdb):