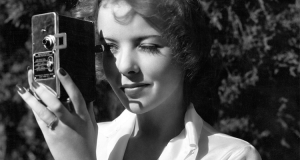 One of the only women to work as a director in Hollywood in the 1940s IDA LUPINO began her career as an actress and succeeded directing and acting in numerous films of the era – specializing in noir.
Well before "indie film" became a household phrase she, along with her husband, ventured out on her own to direct and produce her own work outside of the studio system. As the only woman in the DGA meetings opened with, "Gentleman – and Mrs. Lupino."
More to add to this "bite-sized blog" – please send us a comment!
---
Where to watch her films:
Read more about her:
ONLINE
Ida Lupino And Her Role As Auteur
How Ida Lupino broke into man's world of directing
Turner Classic Movies
New York Times Obituary
Encyclopedia Britannica
Sense of Cinema
Wikipedia
FILMOGRAPHY (from imdb):