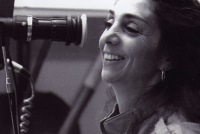 LYNNE LITTMAN began her career as an investigative journalist and then won an Oscar for her short documentary Number Our Days (1976).
She then went on to direct the feature narrative Testament (1983) which was screened at Sundance and premiered at Telluride Film Festival. Her advocacy for women directors along with five other women and the DGA helped change the landscape for female filmmakers in Hollywood in the eighties and nineties.
 More to add to this "bite-sized blog" – please send us a comment!
---
Where to watch her films:
AMAZON (BluRays/DVDs for PURCHASE)
Read more about her:
ONLINE

Interview about Testament
Film Directors Site
Lynne Littman Elected to Academy Board of Govs for Docu, Replaces Michael Apted
DGA
The Academy
Wikipedia
FILMOGRAPHY (from imdb):